The primary purpose of Public Affairs (PA) is to "tell the story" of the U.S. Coast Guard and Coast Guard Auxiliary. Public Affairs Officers (PAOs) conduct PA efforts at the flotilla, division, and district levels. They also augment Coast Guard units as needed. At the national level, the Public Affairs A-Directorate supports PA activities by developing programs and resources to assist Auxiliarists. One of the programs developed in partnership with the U.S. Coast Guard is AUX-12, the Auxiliary Public Affairs "C-School."
AUX-12 is a three-day course that is taught by qualified Auxiliary Public Affairs Specialists. AUX-12 provides technical and practical knowledge to future PAOs through lectures and practical exercises designed to simulate real-life situations that a PAO may face and replaces several classes offered by the A-Directorate's Training Division through the online classroom. Students learn news writing, editing, marketing, branding, and digital photography, along with how to handle media interviews as part of a Joint Information Center. In addition to classroom time, AUX-12 students are also required to complete several homework assignments to receive credit for the course. "It is a gratifying, yet humbling experience for me to share the knowledge I have gained over the years with aspiring PA Specialist candidates. Our instructor team is Always Ready to assist you in your PA endeavors" states AUX-12 Lead Instructor Bill Key. Once the course is complete, if the student has met all the prerequisites and completed the required Performance Qualification Standard (PQS), the student is eligible to complete the oral board for the AUXPA3 qualification, one of three available to Auxiliarists.
Becoming a qualified Auxiliary Public Affairs Specialist is not an easy task and spaces in the AUX-12 classes do fill up quickly as they are also open for active duty and reserve members of the Coast Guard. Candidates must be highly motivated and are vetted by the A-Directorate Training Division staff to ensure they meet the required qualifications. "I cannot overstate what a difference attending AUX-12 has made for me both professionally and personally" stated Auxiliarist Maxim Jenkins, one of 11 students who attended the recent AUX-12 class held at the 2022 National Convention (NACON) in Orlando, Florida. Mr. Jenkins went on to say, "The perspectives I was exposed to through both this course and my fellow students which I now consider friends, were invaluable." To learn more about the AUX-12 C-School and other Public Affairs educational opportunities, visit www.auxpa.org and look for an expanded edition of this article in Navigator and Navigator Express.
By Matthew Thompson, Branch Assistant – Publications Support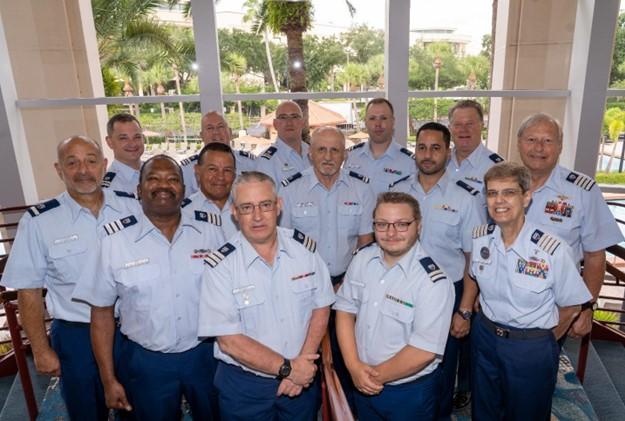 ORLANDO, FL – AUX-12 students and instructors take a break from the classroom to pose for a group photo at the 2022 U.S. Coast Guard Auxiliary National Convention (NACON). NACON is the annual meeting of senior Auxiliary and Coast Guard leaders to discuss policy and set future goals and objectives for the Auxiliary as well as a location for various training seminars for members. U.S. Coast Guard Auxiliary Photo By: Auxiliarist Robin Priestley.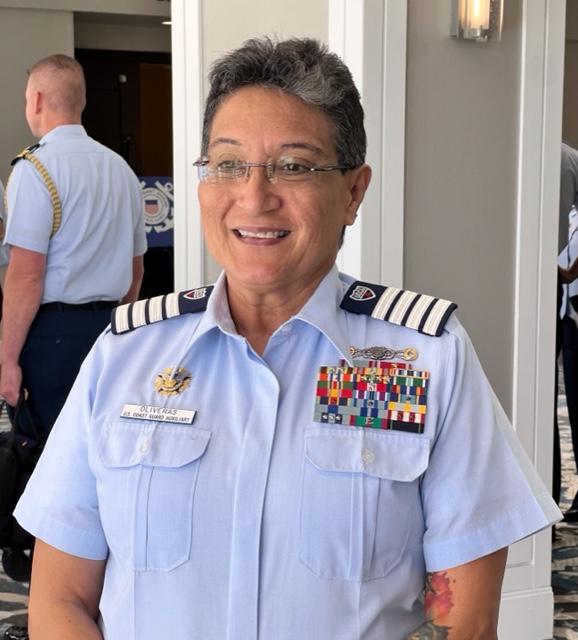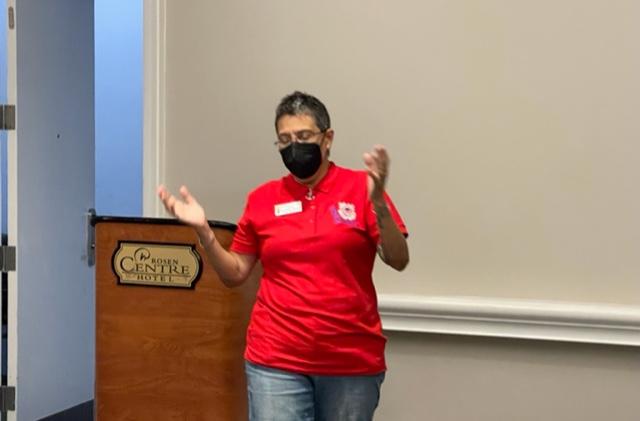 ORLANDO, FL - National Director of Public Affairs-Lourdes R. Oliveras at AUX-12 "C-School" offered in the 2022 NACON. Photo by Auxiliarists Barry Denton and Bill Key.