Going Above The Call: The 2020 Winner Of The Commodore Daniel Maxim Award For Excellence In Public Education.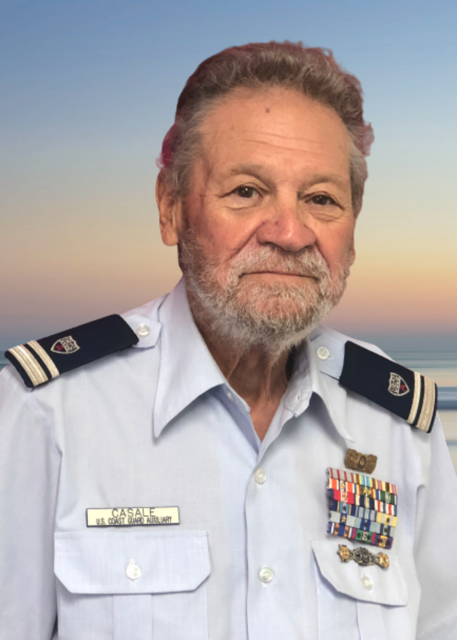 Mr. Casale is pictured here in his Tropical Blue Uniform. Photo by Cono Casale, USCG AUX.
Auxiliarist Cono "Buddy" Casale of Seventh District (D7), Flotilla 11-10 in Dunedin, Florida recently received the 2020 Commodore Daniel Maxim Award for Excellence in Education (Maxim Award) because of his exemplary instructor performance and an outstanding spirit of service to the public and his shipmates.
The Auxiliary's public education program remains one of the core ways we promote safe boating. But for some, the call to serve as an instructor remains a lifelong commitment. The Auxiliary established the Maxim Award to motivate and inspire the entire instructor cadre to reach beyond the comfortable or ordinary to achieve the extraordinary. The award also encourages auxiliarists to increase the diversity and the number of courses offered by units; to improve public education and member training instructor effectiveness and performance; to improve mentorship of newer or lesser experienced instructors; to develop new and innovative teaching methods and techniques, and to develop new and innovative teaching aids.
Since his Auxiliary career started in 2002, Mr. Casale has dedicated 75-100 hours a year towards Public Education and has even remained an authority on impeccable uniform appearance. His ability to identify the right message for the audience, including incorporating relevant information from the local area is unmatched. Building upon his vision for a more economical and accessible basic navigation course, Mr. Casale has welcomed over 300 students including those from local high schools to his on-site and virtual instructions since 2017. His wealth of experience and in-depth knowledge of boating skills and safety support his distinction for the Maxim Award.
When asked about the distinction, Mr. Casale stated, "I find it most rewarding to help fulfill the most important task assigned to the Auxiliary way back in 1939, which is to promote safe boating for the recreational boater. In order to accomplish this task, the Public Education safe boating program was designed."
Bravo Zulu to Mr. Casale for receiving the Maxim Award and to Auxiliarist Dennis Kellner of the Ninth District Western Region and Auxiliarist Douglas McPherson of the Eleventh District Northern Region, for being selected as regional winners from the Atlantic West and Pacific Regions, respectively.
In his closing remarks, Mr. Casale said, "I am humbled to receive the [Maxim Award]. Please recognize Flotilla Commander R. Bonnem and Vice Commander G. Thomas for their guidance and cooperation as well as the instructors' dedication. We take pride that a different instructor volunteers for each chapter. These incredible members are the engine that could. I'm just the driver."
By Andrew Niquette, Public Affairs Directorate, Branch Chief – Publications Support Caption: Mr. Casale is pictured here in his Tropical Blue Uniform. Photo by Cono Casale, USCG AUX