News Release
FLORIDA FLOTILLA 59 EARNS COAST GUARD AUXILIARY'S
NATIONAL "FLOTILLA OF THE YEAR" HONOR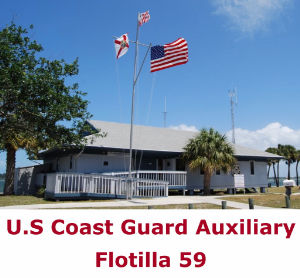 United States Coast Guard Auxiliary Flotilla 59 of Stuart, Fla. has been selected as the Auxiliary's National Flotilla of the Year for 2020.
Auxiliary National Commodore Alex Malewski presented the honor to the District 7 unit in a special ceremony at the flotilla's Sandsprit Park headquarters on July 13. "The Stuart Flotilla's achievements across the many missions that the Auxiliary supports were extraordinary," NACO Commodore Malewski said as he conferred the top national unit award.
Among the Auxiliary's primary tasks are promoting and improving recreational boating safety, operational and administrative support of Coast Guard active-duty units and enhancing the safety and security of local ports, waterways and coastal regions. The Stuart Flotilla was recognized for implementing innovative and effective methods to safely fulfill these missions in the face of the COVID-19 pandemic.
"With over 800 flotillas located in all 50 states and four territories, this is truly an honor for our members," said Dawn Muller, Flotilla Commander, who accepted the award on behalf of the unit that has been in operation since 1942. "The year 2020 was difficult for all of us with the pandemic, but our members did everything asked of them while navigating the challenges of COVID-19."
In addition to holding flotilla meetings online, the Stuart unit hosted virtual boating safety classes for the general public, safely conducted vessel safety inspections, engaged in numerous National Safe Boating Week activities geared to the region's large number of recreational boating enthusiasts, safely staffed local boat show events and enhanced member training opportunities during the Auxiliary's mandated pandemic stand down.
"I am so proud of the work Flotilla 59 has accomplished," Muller told unit members. "Last year started out strong, then COVID hit. After that point, our work was all about operating 'outside the box' and maintaining flexibility."
In addition to the National Flotilla of the Year Award that was presented directly to the unit, each flotilla member received a personally inscribed certificate signed by Commodore Malewski. "It's an honor to be a member of this team," Kevin Gilbert, Vice Flotilla Commander, told his fellow members as they received their certificates.