The U.S. Coast Guard Auxiliary will celebrate with its 83rd birthday June 23, and there has never been a better time to join America's Volunteer Guardians. The Auxiliary encourages enthusiastic and motivated people help make an impact keeping America's waterways and the boating public safe. As an integral force multiplier for Team Coast Guard, the Auxiliary has something for everyone. Here are the top five reasons to join and serve as an Auxiliarist:
1. A Multitude of Volunteer Options
The Auxiliary offers many options for members to serve using skills they have developed in their personal or professional life. We have Auxiliary members who assist in Coast Guard medical clinics through the Auxiliary Health Services program, others who serve as an Auxiliary interpreter, and others who cook outstanding meals for crews and events as an Auxiliary culinary assistant. There are many avenues for an Auxiliarist to support the service. The Auxiliary is also incredibly active in supporting the Recreational Boating Safety mission, along with providing assistance to missions such as marine safety, emergency management, watchstanding, public affairs, cybersecurity, chaplain services, aircraft/watercraft operator fields, aids to navigation verification, and much more!
2. Leadership Opportunities
By joining the Auxiliary, you will have access to leadership development training and opportunities to gain experience at various levels throughout the organization. The heart of the Auxiliary lies in the local flotilla, and each flotilla possesses numerous staff officer positions, such as human resources or public education. Experienced members lead the flotilla as the flotilla commander and vice flotilla commander. There are also leadership positions at the division, district, and national levels. Completing an office term will help you build confidence, experience, and skills that are not only beneficial to the organization, but also to your personal and professional life.
3. Gain Valuable Skills
Becoming a member of the Auxiliary opens the door to a wide array of training possibilities that can help you either improve an existing skill or begin to develop new ones. Through hands-on training, you can learn from the best vessel operators on the water. As a member you will have the opportunity to master everything from basic line handling to more complicated navigation techniques. The Auxiliary also offers an impressive array of classroom-style courses on various subjects such as public affairs, information services, finance, and much more. As an Auxiliarist, you will be eligible for Coast Guard-funded C-Schools, where you can gain invaluable skills in areas such as the Incident Command System and then directly apply them as a force multiplier in the field.
4. Directly Benefit Your Community
The Auxiliary's direct contribution to the boating public of the United States is unquestionable. By joining the Auxiliary, you have the ability to make sure recreational watercrafts are safe by providing vessel safety checks, instruct the public on safe boating procedures through public education courses and program visits, and even save the lives of mariners in distress. In 2021, the Auxiliary conducted over 42,000 vessel safety checks, taught almost 3,000 safe boating courses, and assisted in saving 379 lives and over $21 million dollars of property.
5. Become Part of a Proud Tradition
Through its meaningful contributions to the country, the Auxiliary has built a strong and proud tradition of volunteer service. Dating back to 1939, the Auxiliary was active in recruitment and fundraising for the American war effort during World War II. In a lesser-known contribution, the Auxiliary was a key player in assisting the National Coast and Geodetic Survey with creating comprehensive coastal chart updates in the 1960s. More recently, the Auxiliary received high praise for their efforts providing operational support to the U.S. Coast Guard following the September 11th terrorist attacks, along with assisting in crucial search and rescue operations following Hurricane Katrina in 2005. As a member of the Auxiliary, you will have the opportunity to volunteer and assist in times when your country needs it the most.
These are just the top five reasons why you should join the U.S. Coast Guard Auxiliary. If you would like to learn more and/or are interested in becoming a member, please reach out to a flotilla near you.
By Lt. Chris Booth, U.S. Coast Guard Auxiliary & Boating Safety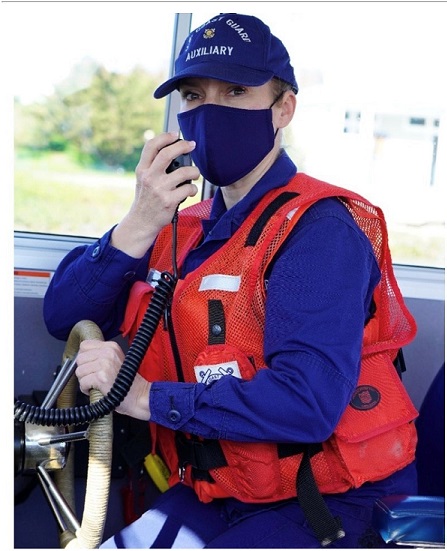 Auxiliarist Tiffany Townsend at the helm of the Auxiliary vessel Silver Charm, conducting a pre-mission equipment check. Photo by Coast Guard Auxiliarist Roger Bazeley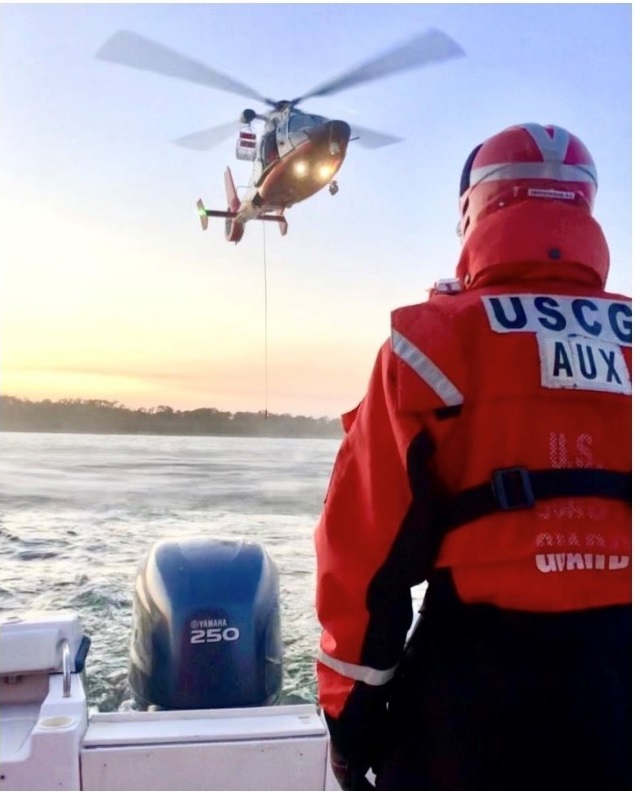 Auxiliarist Phil Deloach keeps a watchful eye on an incoming U.S. Coast Guard MH-65 Dolphin helicopter. In this drill, the helicopter dropped a rescue basket on the Auxiliary vessel's deck. Photo by Coast Guard Auxilliarist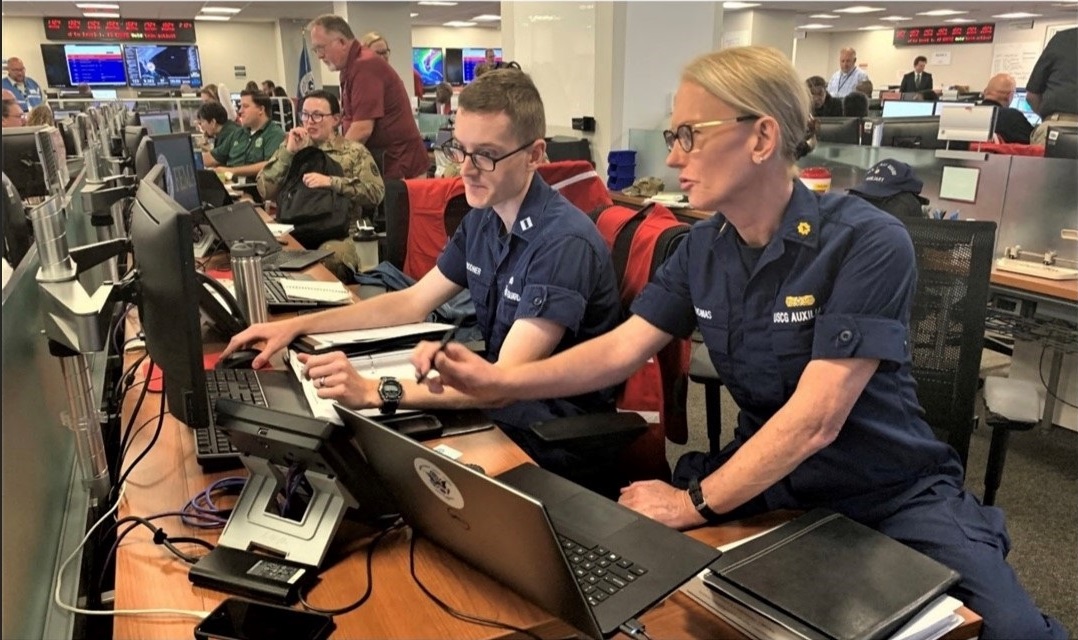 Andrew Niquette.Lt. Christopher Bodner, left, (CG-MER CGHQ) and Auxiliarist Renee Thomas assigned as ESF-10 technical specialists and liaison officers to FEMA's National Response Coordination Center (NRCC) for Hurricane Dorian. Photo provided by Coast Guard Auxiliarist Renee Thomas.