Auxiliarists Robert Bohm, William Jacobs, Jr., and Harvey Miller from the First District - Southern Region have received the 2022 Association for Rescue at Sea (AFRAS) Silver Award. The Silver Medal is awarded for extraordinary bravery in a rescue at sea by a U.S. Coast Guard Auxiliarist.
Keeping America's waterways and those who travel on them safe remains a top priority in our mission to stay Semper Paratus. As a Core Value of the Coast Guard, devotion to duty plays an incredibly impactful role in each mission.   Auxiliarists Bohm, Miller and Jacobs, Jr. are honored for their lifesaving efforts evacuating the crew of a fireworks barge that began igniting without warning.
As described in the official bulletin, Auxiliarists Bohm, Jacobs, and Miller assisted in establishing a Sector Long Island Sound-directed security zone around the Point of Woods fireworks barge staged in Great South Bay on the south side of Long Island, New York during an ordered patrol. Soon after the on-scene arrival of the Auxiliary facility, large commercial fireworks began to ignite without warning and caused explosions in multiple directions. The three Auxiliarists quickly decided it was unsafe for the fireworks barge crew to remain aboard. With fire and explosions occurring all around them, the Auxiliary facility and crew approached the barge from upwind to conduct an evacuation, taking five barge crewmembers aboard, one of whom was injured by a direct firework strike. The Auxiliarists then transported the barge crewmembers to the Ocean Bay Park ferry dock, where emergency medical services personnel were waiting to render aid. The Bay Shore Fire Department was able to put out the barge fire, and the AUX crew placed glowsticks around the barge as it became a hazard to navigation.
Because of their efforts to save the lives of five persons, Auxiliarists Bohm, Jacobs Jr., and Miller received the 2022 Association for Rescue at Sea Silver Award on November 16, 2022, in a ceremony at the U.S. Capitol Building in Washington, D.C.
By Andrew Niquette, AUXPA1, Division Chief – Publications (A-DIR)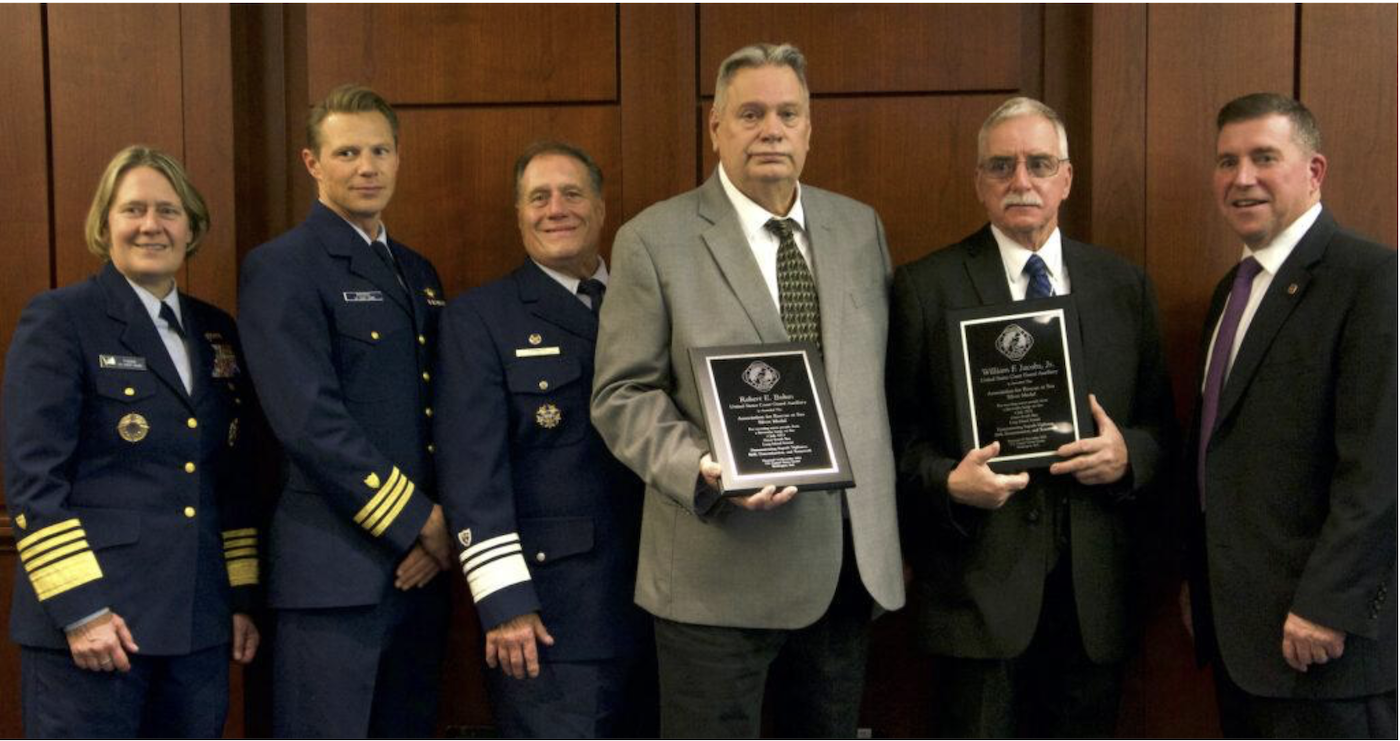 WASHINGTON, D.C. — Admiral Fagan, Commander Brad Winans, U.S. Coast Guard Office of Auxiliary and Boating Safety, U.S. Coast Guard Auxiliarists Commodore Gus Formato, Robert E. Bohm and William F. Jacobs Jr., and AFRAS President Captain Joe Re (USCG ret.) during the presentation of the AFRAS Silver Medal. (Photo provided by the Association for Rescue at Sea)