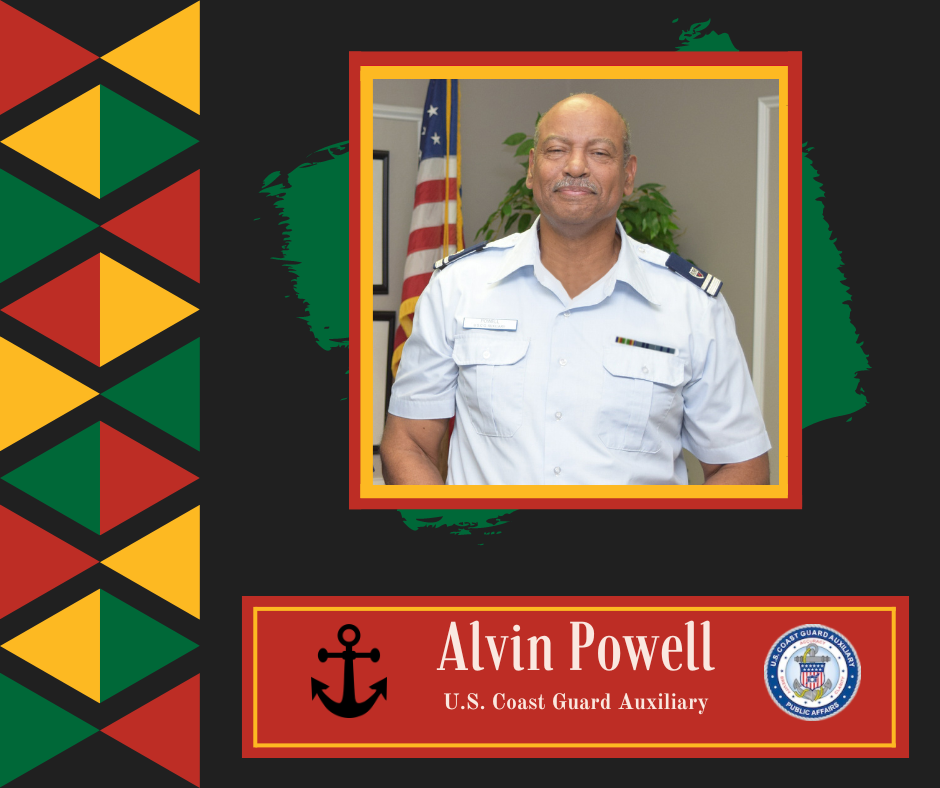 As we celebrate Black History Month, while embracing and recognizing our collective culture and diversity everyday, we would like to recognize the achievements and struggles of Black Americans throughout U.S. History. The Coast Guard and Coast Guard Auxiliary is stronger together with a diverse and inclusive workforce, with all members valued for their skills and contributions.
Today, we celebrate accomplished Auxiliary member Alvin Powell from District Fifth Southern, North Carolina. Mr. Powell, who joined the Auxiliary in 2010, is a diversity officer and has helped earn multiple diversity awards for his flotilla (Washington, NC). He was recognized as 2021 Auxiliarist of the Year for his division and flotilla. He also serves his community, extensively supporting youth through the local STEM program. Mr. Powell served as an FBI agent for approximately 30 years, including assignment as one of the first black pilots, and Chief of the counterterrorism unit, which included investigating the 9/11 attack in New York. As a graduate of Fayetteville State University, he was later inducted into the FSU Athletic Hall of Fame for track.
Who has served as an inspiration in your life?
" My Mother was my inspiration. I grew up in a low-income, high crime section of southeast Washington, DC. Few positive role models existed. Expectations were not very high about being successful in life as a Black male in my neighborhood. My Mother demonstrated character and courage by obtaining her GED at age 50 while being the primary provider in our family. She was thereafter able to obtain a better job which improved the quality of life for our family. She was my biggest cheerleader during my involvement in sports while constantly reminding me that education was the key to a better quality of life, not criminal activity. My Mother was my motivation for becoming a Federal Bank Examiner and subsequently joining the FBI. She attended my graduation from the FBI Academy and watched me become a senior level FBI Supervisory Special Agent and Certified Airplane Flight Instructor before she died."
What does Black History Month mean to you?
"Black History month is an opportunity to educate Black youth about the diverse contributions/discoveries that Afro-Americans have made in a variety of disciplines. These contributions and discoveries have helped improve the quality of life for millions of individuals worldwide."
Thank you Mr. Powell for your incredible service in the FBI and Auxiliary. Bravo Zulu.
For more information about Diversity and Inclusion in the Auxiliary, please visit
http://wow.uscgaux.info/content.php?unit=d-dept
By Deborah Heldt Cordone, AUXPA1.
National Division Chief- Social Media