One of his priorities when Capt. Tom Walcott became Chaplain of the Coast Guard was to re-energize the Coast Guard Auxiliary chaplain program. From a small group of six Auxiliary Chaplains in 2017, the Auxiliary Chaplain Support (ACS) program has expanded remarkably. How fitting that the 100th ACS member is none other than its champion – Chaplain Tom Walcott.
"When I came on board as Chaplain of the Coast Guard, the ACS program was off to a good start but underutilized and not as well-known as it needed to be in both the Aux and Coast Guard," Walcott said. "Our small group of ACS chaplains were doing good things but there was so much they could do, and that the Coast Guard needed them to do."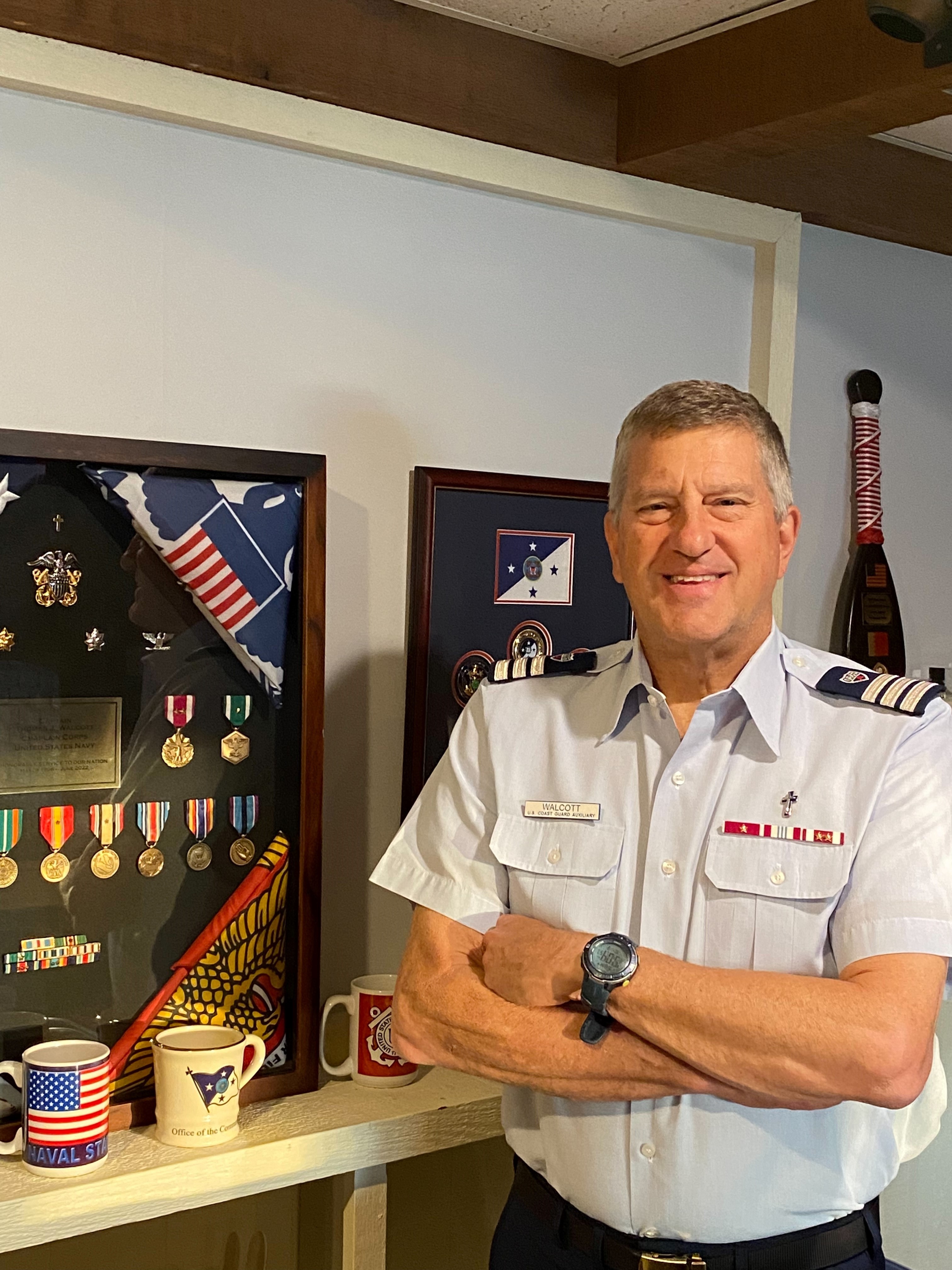 Chaplain Tom Walcott joins the Auxiliary chaplain rank
Walcott's vision for the ACS program was in line with the Coast Guard Auxiliary role as a force multiplier for active duty and reserve Coast Guard members. With only 48 active-duty Navy chaplains and nine Navy reserve chaplains assigned to serve a total of more than 56,000 in the Coast Guard family, the need for qualified religious personnel who are Coast Guard Auxiliary members was evident. (All of the 48 active-duty chaplains are presently but not yet fully billeted.)
Under Walcott, the ACS program established rigorous pre-requisites for chaplains. Each chaplain must meet the same requirements the Department of Defense (DoD) has for its chaplains regarding education, experience, and endorsement from a religious organization recognized by the Armed Forces Chaplain Board. As Coast Guard Chaplain, Walcott was firm on ACS qualifications.
He has encountered that rigor of standards in his own application to become an ACS Chaplain. "Joining the Auxiliary and then ACS program is a time consuming and complicated process," he admitted. He has completed all the required training. Once the challenges of retiring and relocating to Grandville, Michigan, where he and his wife, Jaci, will live, Walcott will take his place in the Ninth District. "I expect to start serving actively in December or January." Just in time for good Coast Guard weather.
The irony of Walcott becoming the 100th ACS Chaplain has not been lost on Coast Guard Commandant Linda Fagan. The present Coast Guard Chaplain, Capt. Daniel Mode, reports that when Fagan was the vice commandant she would joke that Walcott could not retire "till we had our 100th ACS Chaplain."
For its part, the Coast Guard Auxiliary embraced the renewed program in 2017 under Auxiliarist Doug Kroll, a retired Navy reserve chaplain. He has been succeeded by Phillip Poole in the newly created Auxiliary 'G' Directorate that recognizes the importance of the ACS program.
In the space of five years, ACS Chaplains have provided significant support for active duty Coast Guard chaplains. Poole says the list includes counseling and meeting religious needs of Coast Guard members, "including changes of command, funerals, burials at sea, retirements, baptisms, weddings, blessings of the fleet, official ceremonies, and hospital visitations." Since March of 2022, Poole adds that ACS Chaplains have been assigned to support nine underway Coast Guard cutters. "Currently, we have three ACS Chaplains underway; one on Coast Guard Cutter Haley for 80 days, one on Coast Guard Cutter Eagle, and one underway in support of Operation Valiant Century."
A particular advantage that ACS Chaplains offer is flexibility. Walcott points out that the auxiliarists are able to respond more quickly than reserve chaplains. That has freed up active duty chaplains to go to sea for longer stretches of time given land-based support by ACS Chaplains. He echoes Poole about sea duty for the ACS members, adding it is a new dimension for the auxiliary chaplains.
Beyond the ability to support active duty chaplains, Walcott points out a further benefit of the program, "usually the ACS chaplain knows the area and local resources better than the active duty chaplain and can make appropriate referrals more easily."
Both Walcott and Poole envision a solid and important future for ACS Chaplains. "I see the ACS program assuming more and more roles for the Coast Guard family," Poole declared. "The need for chaplain support at commands and units has never been greater."
Walcott is rightfully encouraged about the growth of the ACS program that he jump-started. "Navy chaplaincy and Coast Guard leadership are totally on board. The program is widely known." He adds there is a real force multiplier effect. "Where active duty chaplains are taking the time to train and utilize their ACS team the quality and quantity of ministry we can provide has skyrocketed."
Mode is equally enthusiastic about the growth of the ACS Chaplain corps. "In the five months that I have had a privilege to serve as the Chaplain of the Coast Guard, I have had the joy to approve nine new ACS Chaplains, including my predecessor as our 100th chaplain."     He offered a further thought. "I am excited to see this vital program continue to grow and mature.  Our Coast Guard family needs the religious ministry and care of chaplains now more than ever!"
Is there a projected number of ACS Chaplains? Hazarding a guess, Poole suggests that next year there may be as many as 120 ACS Chaplains.
The number just grew to 100 with the addition of Chaplain Tom Walcott to the ACS program. Welcome to the Silver Side, sir!
Article by MYCG Staff (United States Coast Guard)