The first wave of Auxiliarists deployed to the U.S. Southwest Border (SWB) are now returning home with the gratitude of the Department of Homeland Security (DHS), U.S. Customs and Border Protection Agency (CBP), the U.S. Coast Guard, the Auxiliary, and the nation. In the spring of 2022, the U.S. Coast Guard received a request for assistance to provide non-law enforcement support to CBP (another component of DHS). The Auxiliary was the first component of Team Coast Guard to respond starting in late May. Deployments will continue through September 2022 and take place in several locations around the SWB including California, Texas and Arizona.
To date, 17 Auxiliarists have deployed to the SWB, while 39 received orders to deploy. A total of 222 members have expressed interest in deploying, and the Emergency Management & Disaster Response Directorate of the Auxiliary is working tirelessly to process and vet those applications. This is the first mission in recent history where a certain code or PQS was not needed – rather, Auxiliarists have assisted with general administrative support; and warehouse logistical support. Culinary assistance may also be requested in the future.
The first wave of Auxiliarists deployed to Eagle Pass Station South in Texas under the team leadership of COMO Tracy DeLaughter, IPDCO of District 8WR. With his direction, the team was able to quickly adapt to the operation and lay the foundation for future deployments. In fact, roughly twenty percent of the group either committed to a deployment extension or a return to the SWB later in the summer.
The A-Directorate, Publications Division interviewed three members who deployed with the first wave to Eagle Pass Station South: AUX Caryn Byerson, AUX David Soderholm, and AUX Terri Fraser. Common themes emerged – the gratitude, respect and fellowship showed by DHS, CBP and FEMA representatives to Auxiliarists at the SWB were overwhelming. Members genuinely felt part of the CBP team (after a short orientation) and that they made a difference in helping the vital mission at the SWB. The first-hand experience of the humanitarian operations at the SWB erased any prior understandings about immigrant treatment. The facilities were clean, air-conditioned and the immediate needs of non-citizens were taken care of (food, water, shelter, and showers).
Upon arrival, Auxiliarists were divided into three, 8-hour shifts and provided an orientation, in one case, by Captain Ronzelle Green, the Coast Guard Reservist who is the Coast Guard SWB liaison. All Auxiliarists worked under the supervision of the CBP agents and supervisors who were helpful in answering questions. Duties of Auxiliarists included assisting CBP agents while non-citizens were initially processed, data entry, stocking supplies in the temporary non-citizens living quarters, unloading pallets in warehouses, inventorying personal property of the non- citizens (to be returned later), and handing out food, water, and mylar blankets. "Each day was different and depended on the need – some days there were 20-30 people being processed and in a blink of an eye, there would be hundreds. I am an adventurous kind of guy, and I will say it was physically demanding at times," said AUX Soderholm.
Captain Troy Glendye, CHDIRAUX, recently toured the Eagle Pass stations and visited with Auxiliarists of the second wave who hit the ground running. "The Auxiliary is the pointed end of the spear for the Coast Guard at the Southwest Border. This historic deployment is a continuation of our work with the Auxiliary bridge to seek out new opportunities for using Auxiliarists as a force multiplier," said CAPT Glendye. During off-hours, some members went to the Rio Grande River and were witnesses to non-citizens fighting the strong currents seeking a better life in America. "It touches you a lot differently," said AUX Fraser. Members also engaged in fellowship during the off-shift hours by visiting the local town, sharing meals, and attending pool parties, many times with CBP and other contacts made during business hours. Most notably, multiple Auxiliarists led by AUX Ed Dickson used their off-shift time and in some cases culinary specialist skills to conduct a full-day, outdoor BBQ cook-out on 02 JUN. "We made five briskets, three racks of ribs, pork butt, and jalapeno poppers, all in uniform in the hot Texas sun," said AUX Byerson. Auxiliarists fed all three shifts that day, which included CBP, Auxiliary, and other federal workers.
If these members' services interested or inspired you, consider volunteering at the SWB. "If you have ever wanted to be deployed in support of a Coast Guard mission, but did not think you were qualified, now is your chance. We need anyone and everyone who desires to support the Coast Guard and the Auxiliary with this mission," said COMO Rick Saunders, Assistant National Commodore, Response-Prevention Group.
If you are an Auxiliarist interested in joining the mission, please send an email to: auximacc@cgauxnet.us to start the process. If you are interested in joining the Auxiliary to start or continue your service or to join in this humanitarian mission, please click here to find a flotilla near you!
By: John Saran, AUXPA1, Division Chief – Publications, A-Directorate
Interviews of: CAPT Troy Glendye, CHDIRAUX, AUX Caryn Byerson, AUX David Soderholm and AUX Terri Fraser.
Contributions by: COMO Rick Saunders, ANACO Response-Prevention Group and COMO Tracy DeLaughter, IPDCO District 8WR.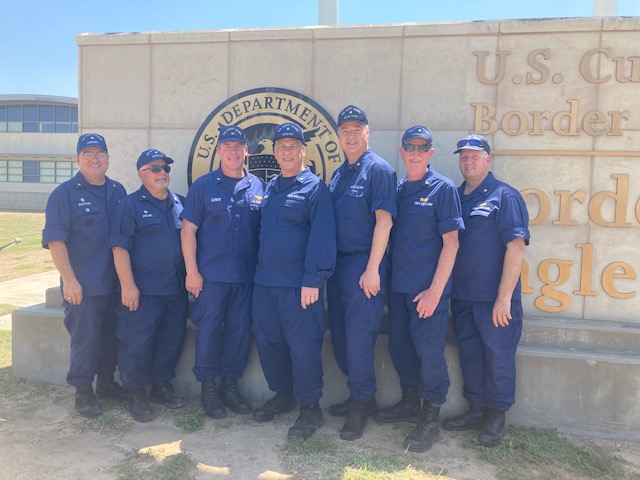 EAGLE PASS, Texas — CAPT Glendye, CHDIRAUX, and the second wave of Auxiliarists stand outside of Eagle Pass Station. (Coast Guard Auxiliary Photo by COMO Tracy DeLaughter)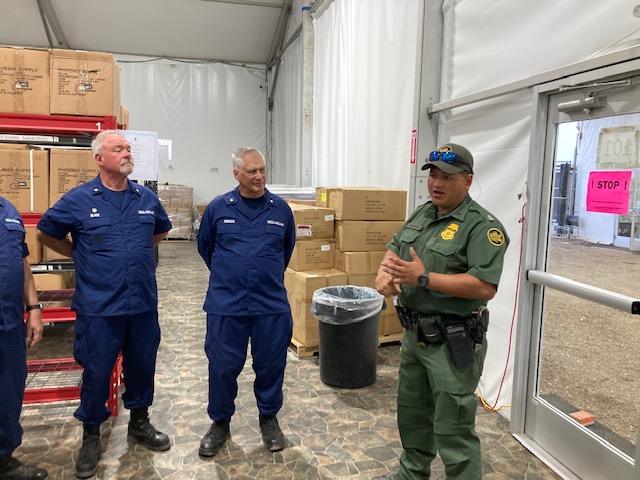 EAGLE PASS, Texas — AUX Fred Black, AUX Wes Morosco, and CBP Watch Commander Anthony Cabarillo conduct an introduction meeting for the second wave of Auxiliary volunteers. (Coast Guard Auxiliary Photo by COMO Tracy DeLaughter)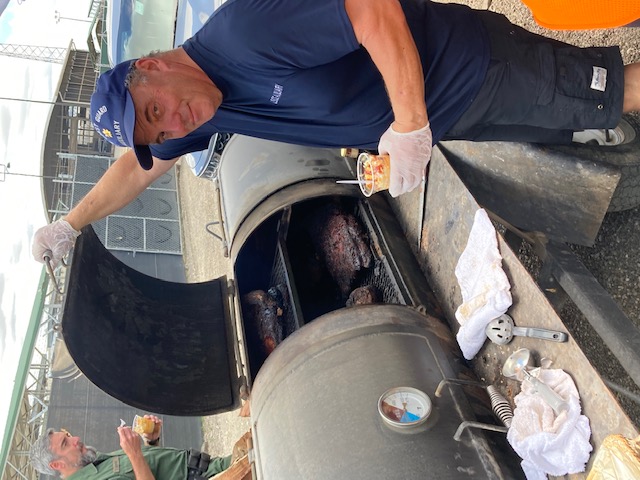 EAGLE PASS, Texas — AUX Ed Dickson works the smoker and showcases his famous, BBQ sundae during the Auxiliary BBQ for the CBP at Eagle Pass Station. (Coast Guard Auxiliary Photo by COMO Tracy DeLaughter)
EAGLE PASS, Texas — Culinary specialists and volunteers from the U.S. Coast Guard Auxiliary cooked a large BBQ spread for three shifts of CBP and other federal workers at the Eagle Pass Station. (Coast Guard Auxiliary Photos by COMO Tracy DeLaughter)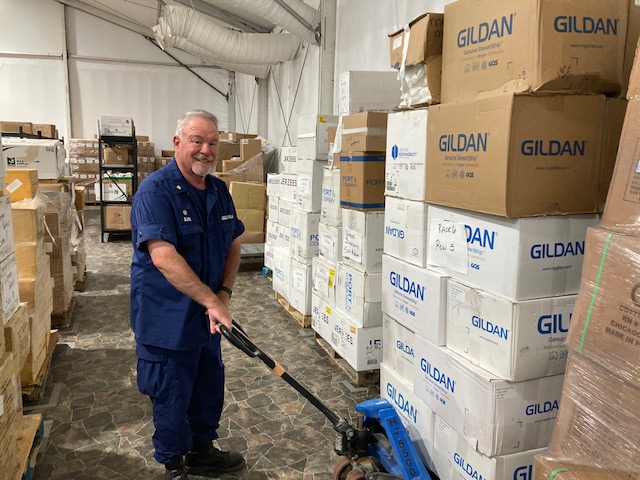 EAGLE PASS, Texas — AUX Fred Black works the pallet hack in the warehouse at Eagle Pass Station. (Coast Guard Auxiliary Photo by COMO Tracy DeLaughter)