The U.S. Coast Guard has an ever-increasing need for officer candidates in the twenty-first century. The Auxiliary University Program (AUP), a U.S. Coast Guard Auxiliary lead leadership development program established in 2007, prepares college students for future success with a strong emphasis on service in the Coast Guard Auxiliary. Individuals participating in this program can develop into career officers in the U.S. Coast Guard or similar service agency, without the commitment of an ROTC program.
To participate in the AUP, a student must become a member of the Coast Guard Auxiliary and have support from their local flotilla and division. Currently, there are 11 schools across the country that participate in the AUP and more are looking to join. While most schools have ties to the maritime industry, some are public research universities and military colleges that did not have ties with the U.S. Coast Guard prior to the start of the AUP. There are also options for students who are not near a campus with an AUP to enroll in a remote learning program and participate virtually.
The AUP offers multiple levels of training with both Auxiliary and active-duty Coast Guard units as well as local community partners such fire departments and various maritime agencies. AUP programs are structured around general courses as well as leadership and elective courses that allow for a specialty or concentration in certain fields. In addition to their normal studies, students must also participate in volunteer events with their flotilla and earn a minimum of one Auxiliary qualification and complete an internship either at Coast Guard Sectors, Air Stations, Small Boat Stations, Aids to Navigation units or at an operations or mission support unit.
At present the U.S. Coast Guard is looking to commission 500 new officers each year for the next five years, with less than half of that number coming from The Coast Guard Academy graduates. The Auxiliary University Program is striving to be the predominant source for the remaining 250 plus officer candidates needed annually and offers students the chance to be better prepared for OCS as well as other direct commission opportunities.
To learn more about the AUP and some highlights from the program in the past year, look for an expanded article in the upcoming Auxiliary publications and MyCG. You can also visit http://www.cgauxedu.us/ for more information.
By Auxiliarist Matthew Thompson, Branch Assistant – Publications Support (A-Directorate)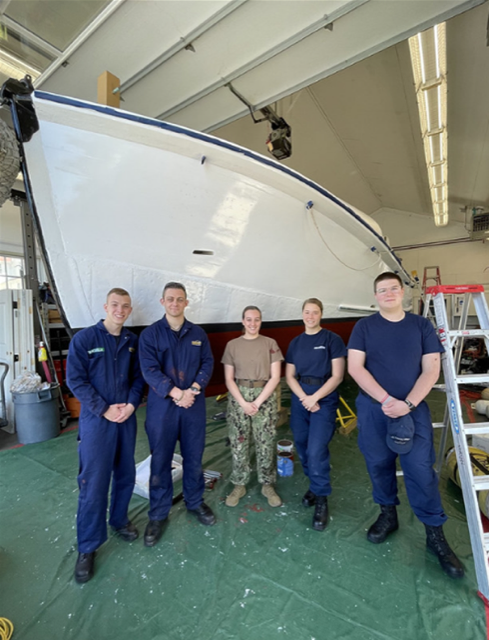 CHATHAM, MA – Massachusetts Maritime Academy AUP Cadets Mitchell Campbell, Jacob Bolles, Alexa Smith, Abigail LeLievre, and Cole Francavilla pose in front of retired Motor Life Boat CG 36500 during spring commissioning work. The cadets learned more about the history of the boat and the Pendleton Rescue made famous by the Disney movie, "The Finest Hours" and then painted the entire hull including the bottom and topsides. U.S. Coast Guard Auxiliary.  Photo by AUX Lisa Goodwin.