Many Auxiliarists have resided in their respective communities for years. Over time, they have established long-standing personal and professional connections within their communities. Those that wish to volunteer their time in the Coast Guard Recruiting Support Program are in a unique position to leverage those connections to introduce Coast Guard recruiters to a wide variety of leaders, organizations, and other individuals within diverse communities that may have been otherwise under-represented within the Coast Guard as a whole.
The Recruiting Offices (ROs) of the Coast Guard Recruiting Command (CGRC) typically serve large, multi-state areas. Auxiliarists working at ROs may qualify to work shoulder-to-shoulder with Coast Guard recruiters on the front lines assisting with identifying the next generation's leaders and team members while saving the ROs critical manpower and money. As a member of the CGRS Division, Auxiliarists are able to complete the CGRS program's PQS (and earn the CG Recruiting Badge, CG Recruiting Services Ribbon, and the wreath which fits around the perimeter of the Recruiting Badge) and effectively function as Coast Guard recruiters throughout the country as well as help the active-duty recruiters perform their normal jobs better.  In addition to augmenting the recruiting staff and representing the ROs at various events within their AOR, Auxiliarists can also serve in other roles such as completing various administrative tasks, greeting & qualifying those who walk in or phone an RO, answering telephone inquiries, qualifying accession potential for enlistees or Reservists, administering tests, processing recruits, distributing literature, and supporting other recruiting activities as deemed appropriate. Auxiliarists also can assist by providing liaison support at both Military Entrance Processing Stations (MEPS) and CG College Student Pre-Commissioning Initiative (CSPI) operations (Coast Guards equivalent to ROTC), civic and community events as well as at other locations.  Beyond Coast Guard recruiting, the CGRS Division also is most active assisting with the CG Officer Recruiting Corps while in all, places Auxiliarists in  unique positions to reach out to potential future Auxiliarists.
To participate in the CGRS Program, Auxiliarists must ensure they have completed all core training, are basically qualified, obtain a security clearance, and submit a request to join the CGRS program as outlined on the H-Directorate's website. Auxiliarists must also conform to specific uniform and grooming standards identified within the programs SOP, established and approved by CGRC within set by the Recruiting Office. After meeting the initial qualifications and being approved to join, Auxiliarists complete step one: the PQS and all associated tasks. From there Auxiliarists can move on to steps 2 and 3 as they work to broaden their responsibilities and roles within the CGRS Division. As each step is completed, Auxiliarists are authorized to wear various insignia and ribbons to recognize the work that they have done.
Due to the fact that many of the CGRC's offices have large AORs with small offices and staff, the CGRS program is ideal to assist the men and women of the CGRC to reach across all geographic boundaries and to reach previously untapped potential throughout the nation. Auxiliarists participating in the program have the opportunity to not only develop new skills and connections but to also shape the future of the Coast Guard. For additional information on the Coast Guard Recruitment Support Division, visit the Human Resources Directorate's website and click on "CG Recruiting Support."
By Matthew Thompson, Branch Assistant - Publication Support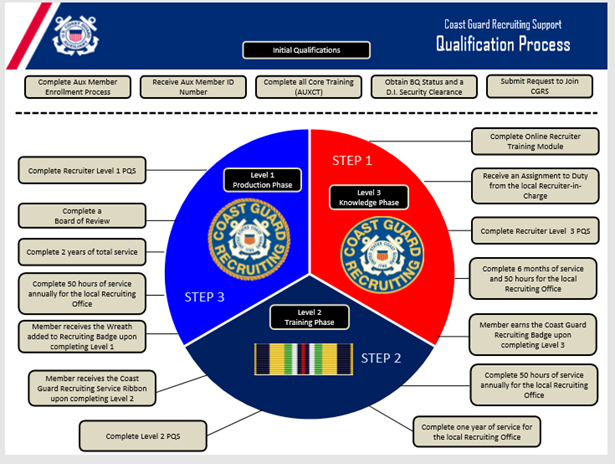 Coast Guard Recruiting Support Qualification Process – Courtesy of the H-Directorate Website.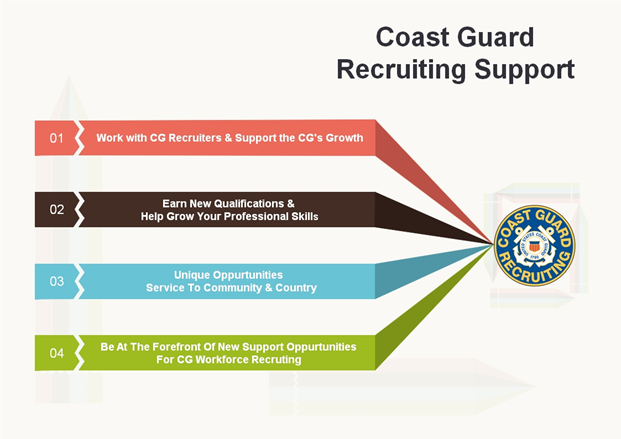 Coast Guard Recruiting Support Opportunities – Courtesy of the H-Directorate Website.