The Virtual Museum of the Coast Guard Auxiliary 
Preserving Our Unique Auxiliary History

The new virtual museum of the U.S. Coast Guard Auxiliary (VMCGA) launched on the A-Directorate, History Division's website on October 6th, 2021, after a year of dedicated preparation by the History Divisionstaff. A visit will likely surprise you. Its digital exhibits provide a glimpse into the Auxiliary's unique eighty-two-year history and honor the organization's heritage and culture.
Currently, the VMCGA features a variety of covers, devices, flags, and uniform buttons dating from the Auxiliary's inception in 1939 to the present day. Over time, the VMCGA's digital archive will expand to display historic uniforms, medals, safety gear, and even historic Auxiliary facilities.
The VMCGA strives to reflect the Auxiliary's unique history, which encompasses scientific, cultural, and social themes from both historical and modern contexts. To achieve this goal, the History Division is  seeking images of Auxiliary maritime and aeronautical equipment and gear, uniforms, heraldry, models, and artwork.
The virtual museum is in phase one of its comprehensive plan, and more artifacts will be displayed once they are properly photographed, and the staff establishes their provenance. Auxiliarists can do their part by spreading the word, looking for artifacts in their unit's possession, sharing oral histories, coordinating with their district's historian, and visiting the virtual museum as it builds its exhibits and archives.
Prior to visiting the VMCGA,we recommend that you first review the presentation, The History of the Coast Guard Auxiliary, by Mark A. Snell, PhD., Division Chief of History, A-Directorate. The presentation provides a brief chronological overview of the Auxiliary's history, which will provide the necessary historical context that will streamline a virtual visit to the VMCGA.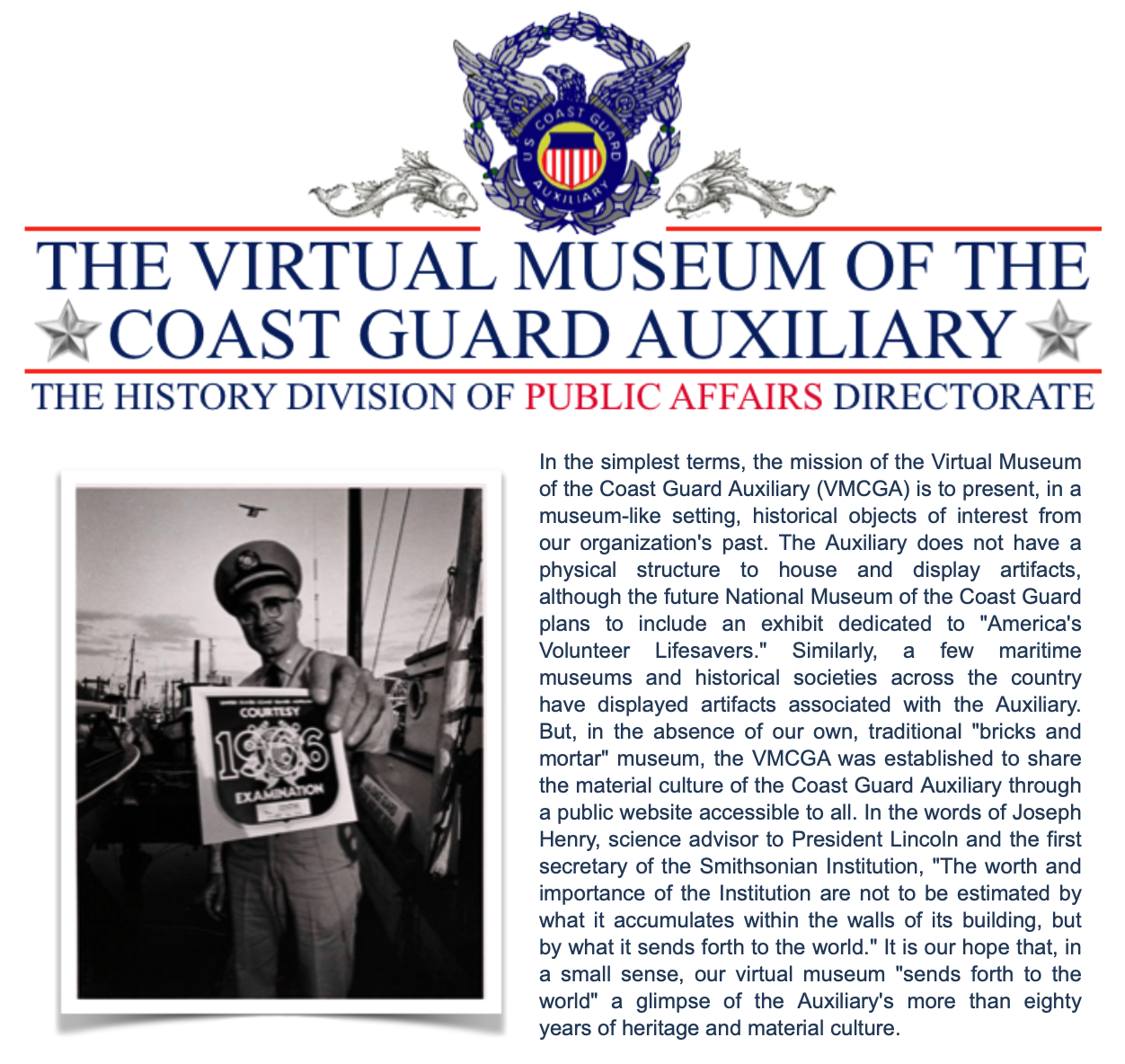 A screenshot of the Auxiliary's Virtual Museum within the A-Directorate website. U.S. Coast Guard Auxiliary Photo.
An Auxiliary communications vehicle outside of the Cape May County Tuna Clubhouse (now the Peter Shields Inn) in Cape May, NJ. Circa 1950. U.S. Coast Guard Auxiliary Photo from Mark A. Snell, PhD.
Article by Kim Holland, BA-AMEC(s)    Edited By A-Directorate Staff