30-Year Auxiliary Member David G. McClure Receives Coveted Coast Guard "CHIEF" Honor
SANDWICH, Mass. – David G. McClure of Wareham, Mass., a 30-year member of the U.S. Coast Guard Auxiliary, has beennamed an "Honorary Chief" by the U.S. Coast Guard – a rare honor for a member of the Auxiliary volunteer force. McClure, who has been a communications watchstander at Coast Guard Station Cape Cod Canal for the past 10 years, was nominated for the honor by Chief Boatswain's Mate Nicholas Crews, Officer-In-Charge at Station Canal in recognition of McClure's long and helpful service to the unit. Crews' recommendation was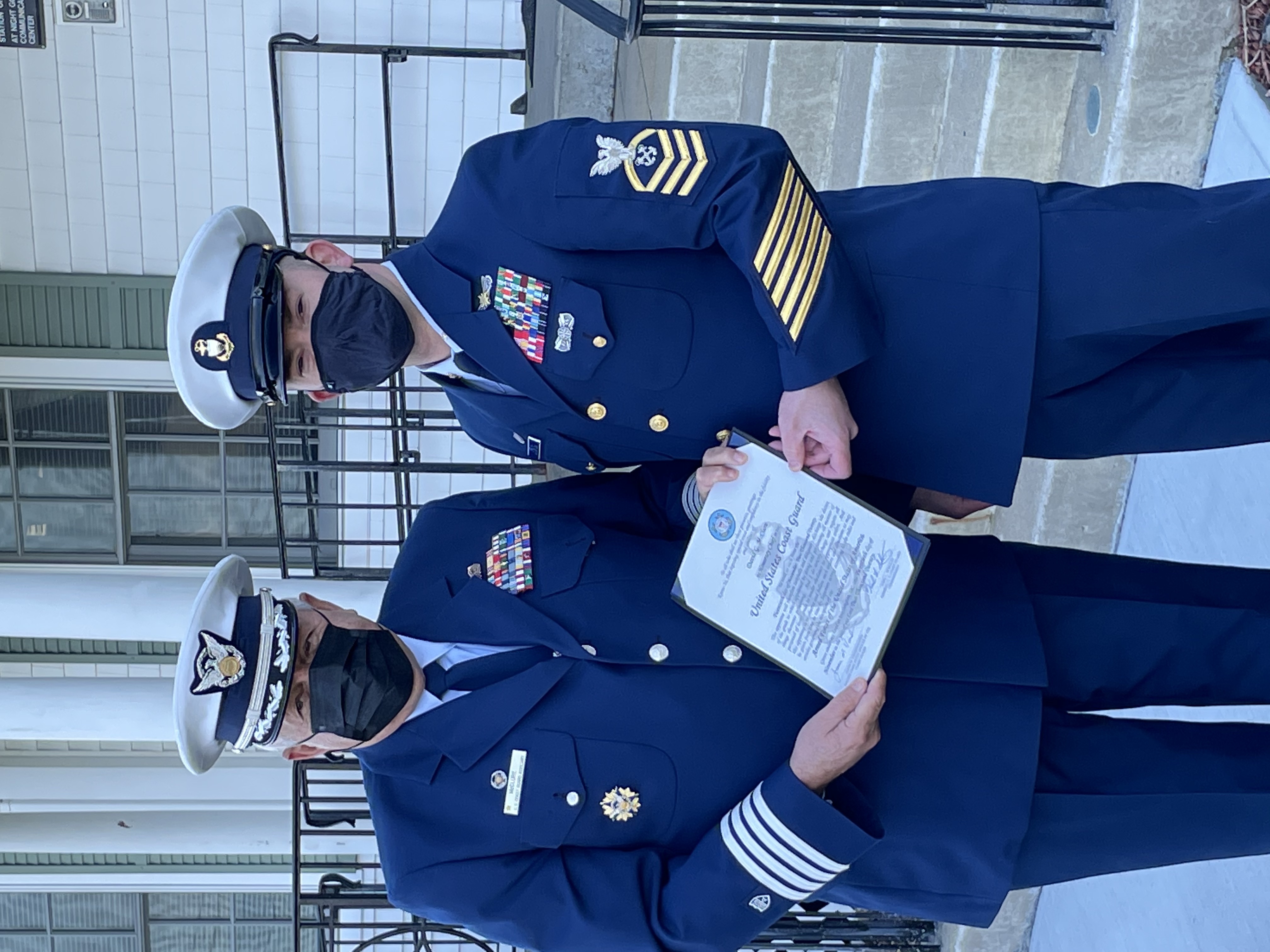 unanimously supported by the other chief petty officers in Sector Southeastern New England, and final approval followed from the Chief Petty Officer of the Coast Guard, Master Chief Jason M. Vanderhaden, and the Commandant of the Coast Guard, Admiral Karl L. Schultz.
The citation was presented to McClure during the monthly "Chiefs' Call" of the Sector's top enlisted cadre held at Station Canal on Nov/2020. "I was absolutely amazed and very pleased to receive this award," said McClure… "It was a surprise that I never expected, Thanks to all the Coast Guard members who thought me worthy to receive this award."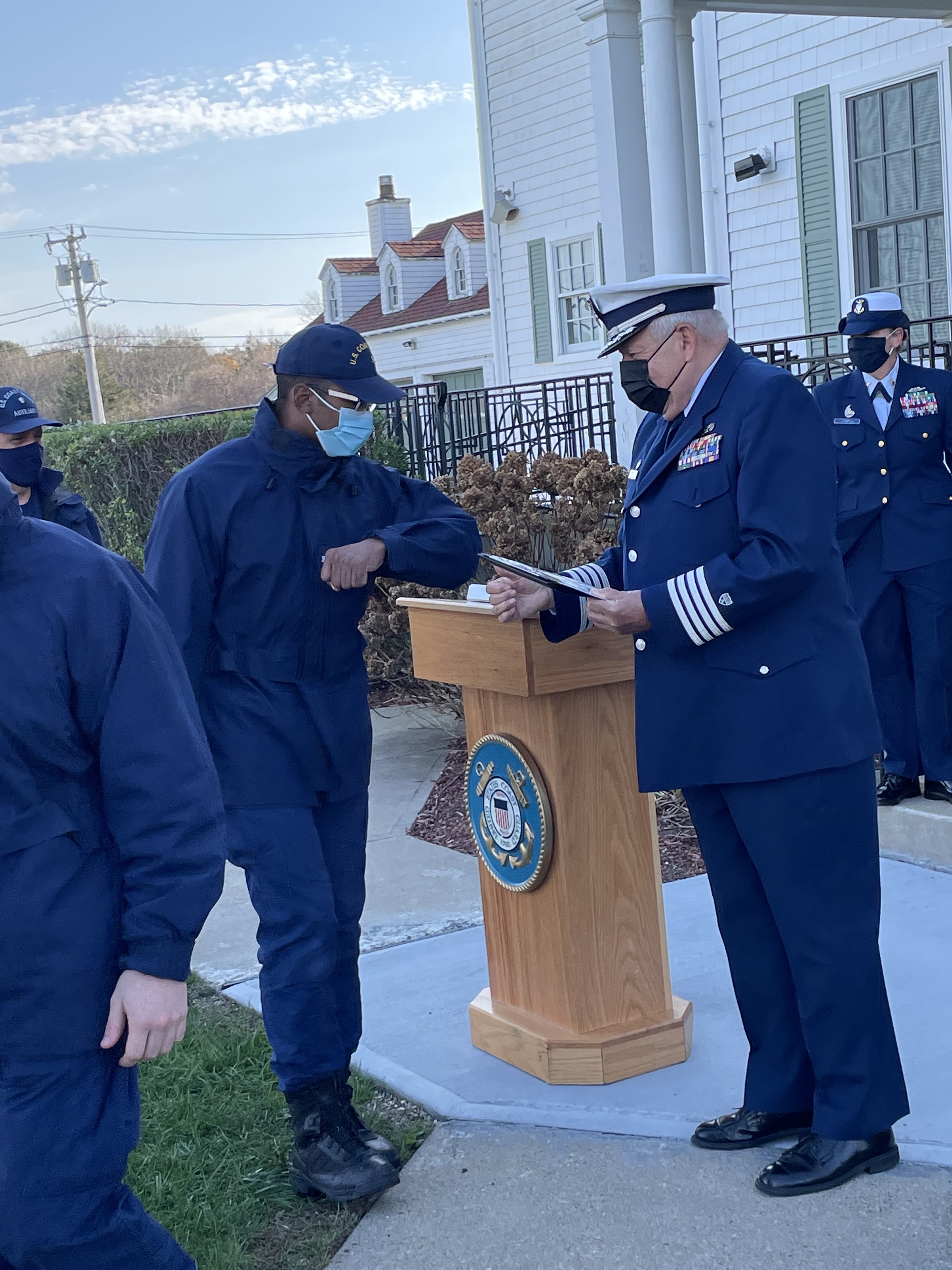 The "Honorary Chief" designation permits holders to participate in the tradition-laden "Chiefs' Mess" dining, fellowship and social activities aboard any Coast Guard vessel or shore station.
In addition to his watchstanding duties over the past decade, McClure is a certified Auxiliary Food Specialist who has provided support to the station's galley – helping to prepare and serve meals on holidays and other special occasions. A former schoolteacher who holds a doctorate in education, McClure has also spent many hours providing educational counsel and advice to the unit's active duty members. Recently, McClure and his wife Carolyn – also an Auxiliarist – worked to make protective face masks for the Station's crew to help minimize risks from the COVID-19 virus.
McClure is also a qualified instructor in the Auxiliary's public affairs directorate and recently was elected Chief of Staff for the Auxiliary's First District-Northern Region, an area that includes all Auxiliarists from Massachusetts, Rhode Island, New Hampshire and Maine.
Article written by DVC-AM Reid Oslin
Division Chief of Publications for the Public Affairs Directorate
Cutlines:
McCLURE #1: Coast Guard Auxiliarist David McClure (left) received a designation as an "Honorary Coast Guard Chief" from Station Cape Cod Canal's Officer-In-Charge, Chief Petty Officer Nicholas Crews. (Photo by AUX Reid Oslin.)
McCLURE #2: Auxiliarist David McClure accepts congratulations from Petty Officer Third Class Jalil Ellis and other members of the Station Cape Cod Canal crew after the presentation ceremony. (Photo by AUX Reid Oslin.)