Chief Journalist (ret.) Alex Haley won a Pulitzer Prize in 1977 for his ground-breaking book, Roots: The Saga of an American Family, which remained on the New York Times bestseller list for twenty-two weeks. Before Haley was famous, he served twenty years in the United States Coast Guard and quickly rose through the ranks in the service's new journalism rating.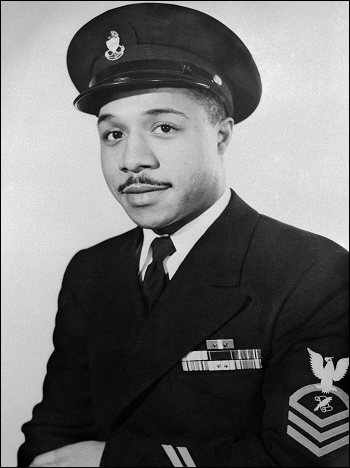 Born Alexander Palmer Haley in 1921, he was only fifteen years old when he graduated from high school. He subsequently continued his studies at State Teacher's College in North Carolina. Haley enlisted as a Mess Attendant Third Class (E-3 Seaman) in the Coast Guard in May of 1939, one of only two ratings available to African Americans at the time.
His training occurred on the job, aboard the U. S. Coast Guard Cutter (USCGC) MENDOTA. While not on duty, Haley wrote to family and friends back home and even helped other shipmates write home as well. These efforts led to over 40 letters per week and sparked an interest to write articles based on stories shared by fellow crewmen. These articles appeared in numerous magazines, including Coast Guard Magazine.
Haley was promoted to Officer's Steward Third Class (PO3) in 1942 while serving onboard the USCGC PAMLICO. His next transfer to the cargo vessel USS MURZIM (AK-95) occurred a year later when Haley and his shipmates faced dangerous duty in the Pacific region. He wrote about the experience of war and published a ship's newsletter to pass the time.
His journalism work garnered a great deal of attention, which led to an assignment of editing an official Coast Guard periodical, where he received a commendable mention for his work. Gaining more responsibility over the years, he served the Coast Guard publication Helmsman as a reporter, assistant editor, and finally, editor. Haley's talents were officially acknowledged in 1949 when the Coast Guard promoted him to Journalist First Class (PO1). More impressive, he became chief journalist six months later, the first chief journalist in the Coast Guard.
His last assignment was as the assistant to the Public Relations Officer at Coast Guard Headquarters in Washington, D.C., a position he held until retirement. In 1959, after 20 years of service and participation in World War II and Korea, Haley retired from the Coast Guard. His retirement allowed him to develop his desire to become a full-time writer. Nearly two decades later, CPO (ret.) Haley became a Pulitzer Prize winner. Alex Haley earned numerous awards and citations during his twenty-year career with the Coast Guard, as well as literary and public acclaim post-service for his writing. He died in 1992 yet continues to be an inspiration to Coast Guard Public Affairs and Auxiliary personnel to this day. The annual "Chief Journalist Alex Haley Award" is presented each year to the Coast Guard's best individual authors and photographers, including Auxiliarists, who have raised the visibility of the service.
By Dawn Williams, Branch Assistant – Writer and Proofreader, Publications Division, A-Directorate; edited by Dr. Mark Snell, Division Chief, History Division, A-Directorate