Chicago-based Auxiliarists, Gary Markle and Shelley Markle, received high honors, the 2021 Silver Medal Award, for their lifesaving efforts at an Association for Rescue at Sea (AFRAS) ceremony on November 2, 2021. Devotion to duty plays an impactful role in every Coast Guard Auxiliary mission, and in such lifesaving efforts in 2020-21, the Markles from the Ninth District Western Region showcase that devotion to duty and the critical role we hold as America's Volunteer Guardians.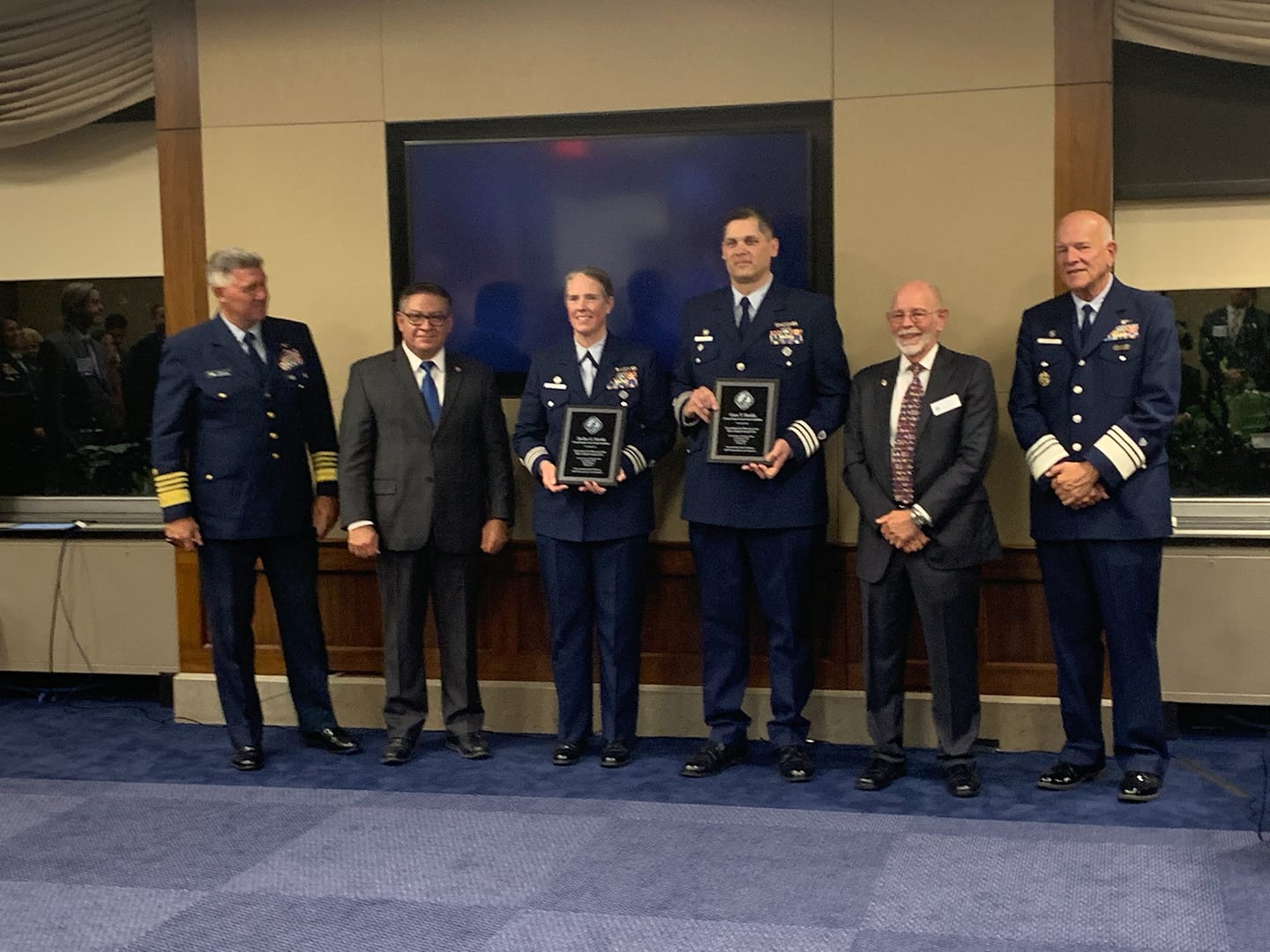 Auxiliarists Gary Markle and Shelley Markle received the 2021 AFRAS Silver Medal Award on November 2, 2021, with the Commandant, National Commodore and AFRAS leadership in attendance for the ceremony. Photo by David Markle.
This year's AFRAS ceremony was well-attended, with the Commandant, National Commodore, and Vice National Commodore present among other senior leadership. AFRAS presents the Silver Medal Award to Auxiliarists on an annual basis and the Markles received such award for a Good Samaritan save in 2020. However, their efforts do not stop there, as they saved or assisted over twenty individuals in 2021 on Lake Michigan as well. An overview of the citation is below.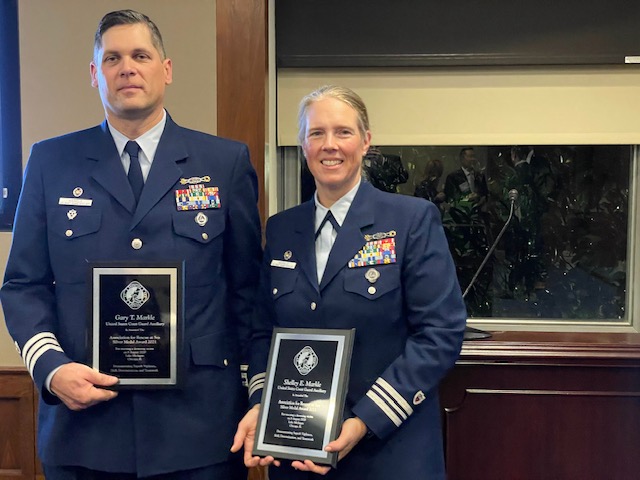 Auxiliarists Gary Markle and Shelley Markle are responsible for dozens of assists and saves on Lake Michigan using their personal watercrafts in the past few years. Photo by David Markle.
On August 8th, 2020, while returning to their slip-on their Personal Watercraft (PWC) at Burnham Harbor in Chicago, Illinois, Gary Markle, and Shelley Markle were notified of a possible drowning from a nearby vessel, ICEMAN II. Good Samaritans in the vicinity spotted an unresponsive swimmer, prompting a radio call to USCG Station Chicago and a perimeter is established. Using his PWC to maneuver safely to the crowd, Gary observed the unresponsive swimmer and the panicking passengers struggling to organize and remember CPR. Gary dismounted his PWC to assist in bringing the swimmer back onto ICEMAN II. While in the water, Gary instructed the surrounding swimmers on how to push water from the lungs of the unresponsive drowned swimmer, albeit unsuccessful. Shelley Markle then dismounted from her PWC, taking control of the situation by initiating CPR and instructing the others to assist her with proper CPR techniques.
As Shelley handled the management of panicked passengers, Gary boarded one of the PWCs and began transporting Chicago Fire Department personnel and paramedics from land to the ICEMAN II as it slowly transitioned towards the shore. When these rescue personnel eventually relieved Shelly from CPR duties, she continued to assist with counseling and managing the passengers aboard ICEMAN II. Once on land, the survivor was confirmed to be revived before his transport to a local hospital.
"Their outstanding efforts included calm, controlled, and effective management of an emergent situation with a drowning person, their administration of life-saving CPR, and the victim's timely transfer to emergency services personnel. Their heroic actions brought great credit to the United States Coast Guard and the United States Coast Guard Auxiliary!," said Captain Troy Glendye, USCG Chief Director of Auxiliary.
Article by Andrew Niquette, Branch Chief – Publication Support; A-Directorate