AUXAIR Teamed with Hawaii Wildlife Rehabilitation Center
Last December 2020, AUXAIR teamed with the Hawaii Wildlife Rehabilitation Center located on Hawaii Island to help save aLanaiIsland critically endangered fledgling Wedge-tailed Shearwater shorebird,offering transport capabilities. Actually, Kauai Island is the habitat of 90% of the remaining population. Ensuring a protected rich, diverse and sustainable ocean environment is part of the Team Coast Guard environmental protection mission.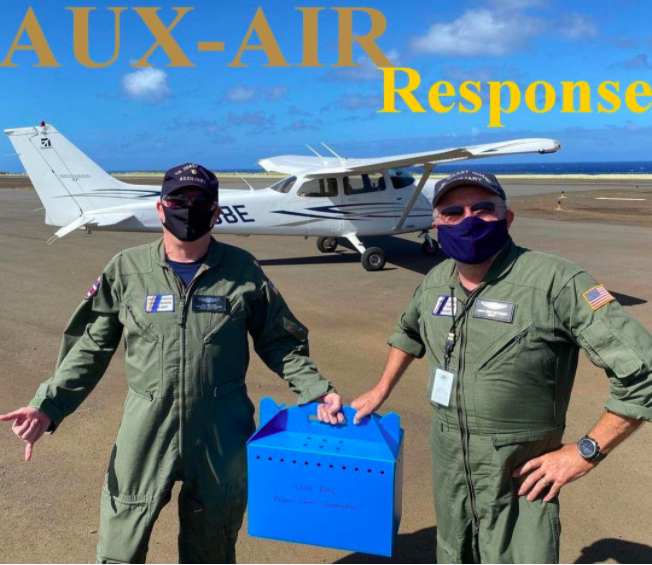 * U.S. Coast Guard (L-R) Auxiliary pilot William Melhn and pilot Heinz Gert de Couet of the 14th USCG District Handing over a fledgling Wedge-tailed shearwater to Wildlife Rehabilitation manager Juan Carlos Guerra, at Upolu Point Airfield.
The flight aircraft, a Cessna 172C, originated from the Honolulu airport via Lanai Airport, Upolu Point Airport and ended 3.6 hours later returning to Honolulu Airport. The crew was greeted by Ms. Christina Donehowerwho accepted delivery of a fledgling Wedge-tailed shearwater in need of special care by the veterinary staff at the Wildlife Rehabilitation Center near Upolu Point. Within a few minutes, the flight was airborne again in the direction of the Big Island.At Upolu Point, the crew was greeted by Wildlife Rehabilitation Manager Juan Carlos Guerra, who accepted delivery of the sick bird.
Auxiliary Flotilla 140-01-10 Hawaii has a robust air corps with 25 qualified pilots and 22 trainees. Roughly 16 pilots are very active. On average, the team conducts about 15 flights monthly in support of routine patrols, first light search and rescue, pollution response, and specialty flights for transport of injured or recovered animals and birds. The efforts of the air corps are a significant force multiplier for the local Coast Guard air station. As demands on the Coast Guard have accelerated, legislation expanded the Commandant's authority to use the Auxiliary, and especially AUXAIR, to assist other Federal agencies, State authorities, and local governments.
By 2011, AUXAIR began integrating routine patrols into operations with the National Oceanic and Atmospheric Administration (NOAA), flying within the National Marine Sanctuary along the Nation's coastlines; the sanctuaries, part and parcel of the Coast Guard's mission of Marine Environmental Protection.
These are but a fragment of AUXAIR responsibilities.  As more missions and operations are integrated into Auxiliary Aviation's area of responsibility, the need for pilots, and especially for observers, has become critical and recruitment has become a daily effort to enlist more observers.

*District 14 Hawaii has an amazing ecological diversity of aquatic, botanical adn bird species.

*(L) Wedge-Tailed Shearwater (C) Hawaii Wildlife Center Logo (R) Caring for an injured bird by specialists.
But with 200 aircraft and 300 personnel, Auxiliary aviators provide a dedicated force multiplier by increasing the number of aircraft available for the mission, or filling in when Coast Guard air is called away for more demanding missions.  Routine operations for AUXAIR are air safety patrols flown week-to-week, month-to-month year-round.  Auxiliary air patrols are requested by the pilots who fly them and must be approved by the Coast Guard air station to which they are assigned. "We've taken steps to minimize risk, and if for any reason our teams feel there's unacceptable exposure risk to COVID-19, we'll cancel the flight," William Melohnpilot.
AUXAIR is an Auxiliary operational program with participation in various missions ranging from transport to search and rescue. AUXAIR aviators volunteer their aircraft for use as facilities, just as surface operators volunteer their boats. Member training and certification is available for pilots, observers and air crew.
For more information about the AUXAIR program, please visit
http://wow.uscgaux.info/content.php?unit=R-DEPT&category=air